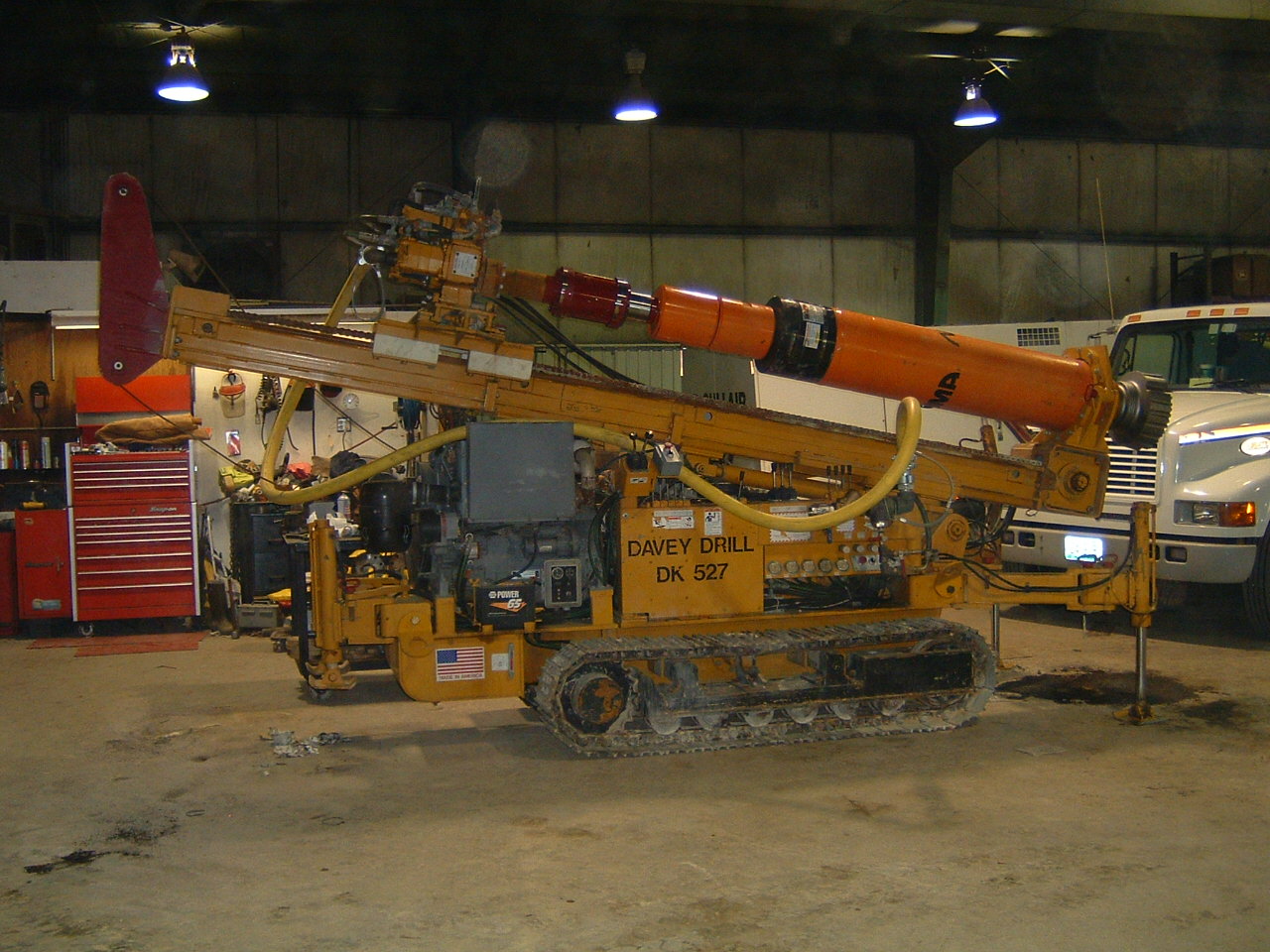 The DK525 offers big machine capability in a small machine body for performance under any job site conditions.
• Big pull capability for casing and
rod extraction.
• Engine offerings of up to 115HP.
• Sectional mast design for shortening in limited overhead applications.
• Less than 36″ wide in its narrowest
configuration.
• Simple control system for quick and easy set-up.
• Built to serve and endure.
DK 527 General Specifications
Undercarriage:
 
 
Type:
Crawler, Fixed Base/Width
 
 
Width (max.):
1,676 mm
(66.00 in.)
 
Length (O.A.):
2,310 mm
(90.94 in.)
 
Shoe Width:
300 mm
(11.81 in.)
 
 
 
 
Power Unit:
 
 
Type:
Diesel Engine
 
 
Make:
Deutz
 
 
Spec.:
BF4M1012C
 
 
Power:
101 hp @ 2,500 rpm
 
 
 
 
 
Rotator
 
 
Type:
Hydraulic Top Drive
 
 
Make:
Davey
 
 
Spec.:
DR14
 
 
Perform:
Speed #1 (max.):
23 rpm
 
 
Torque #1 (max):
15,335 Nm (11,305 ft-lbs.)
 
 
Speed #2 (max):
32 rpm
 
 
Torque #2 (max):
10,220 Nm (7,535 ft-lbs.)
 
 
Speed #3 (max):
64 rpm
 
 
Torque #3 (max):
5,105 Nm (3,765 ft-lbs.)
 
 
 
 
Drill Mast:
 
 
Type:
Motor/Chain Feed
 
 
Make:
Davey Kent, Inc.
 
 
Spec.
Variable Length:
2,464mm to 4,941 mm
 
 
 
(8.08 ft. to 16.21 ft.)
 
 
Working Stroke:
914mm to 3,391mm
 
 
 
(3.00 ft. to 11.13 ft.)
 
Perform:
Feed/Extract Force:
75.1 kN (16,874 lbs.)
 
(max)
Feed/Extract Rate:
17.5m/min (57.4 ft/min.)
 
 
 
 
Options:
 
 
Rotators, Off-hole Slide Carriages, Hydraulic Lifting Winches, Hydraulic Towing Winches,Cat Heads, Hydraulic Clamps, Water/Grout Pumps, Urethane Track Shoes, Wide Track Shoes
 
 
 
 
Major Dimensions:
 
(Transport Config.)
W: 1,676 mm
( 66.00 in.)
(3-section mast)
L: 5,307mm
(208.94 in.)
 
 
H: 2,687mm
(105.78 in.)
 
 
 
 
Weight (approx.):
5,909 kg. (13,000 lb.)