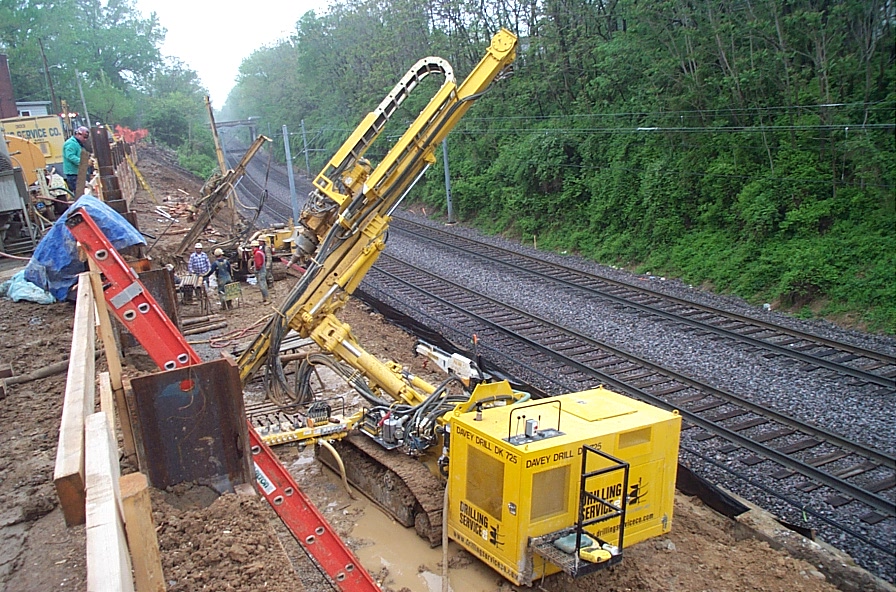 The DK 725 offers a combination
of power, articulation, and versatility to perform on any job.
• Maximum kinematic motion range with
no cylinder repinning required.
• EPA compliant power system.
• State-of-the-art hydraulic system with
built-in controls to run a wide range of
drilling systems and custom options.
• User-friendly controls mean accuracy
and efficiency.
• Built to serve and endure.
DK 725 General Specifications
Engine Power Up to 260HP (194kW)
All machines are EPA compliant.
Mast (Sectional Design)
Overall Length 25.67ft (7.82m)
Stroke, Standard (Single Head) 18.58ft (5.66m)
Stroke, Standard (Double Head) 15.17ft (4.62m)
Feed/extract force 22,700 lbs (101kN)
Max Feed Rate 137ft/min (41.76m/min)
Rotar Heads and Drifters
Single or Double Head Combinations
DR10, DR14
Drifters – Krupp or Eurodrill
Clamps
Available Options: DC250, DC300, DC400
Auxiliary Options: Water Pumps, Winches, Cranes, etc. Please inquire for full range.
Physical Characteristics
Weight 37,000 lbs (16,780kg)
Height (transport) 9.08ft (2.77m)
Length (transport) 25.67ft (7.82m)
Width 8.20ft (2.50m)